TikTok Live Hourly GMV Breaks $50,000 USD! How Did TSP Service Provider PONGO Achieve It?
On December 26th, PONGO held the "Best and First | Year End Sale" live promotion event in Southeast Asia. Within the first hour of the broadcast, the GMV (Gross Merchandise Volume) of the TikTok Shop store for their own account B&F exceeded $50,000 USD, injecting a dose of confidence into cross-border merchants who had been hesitating.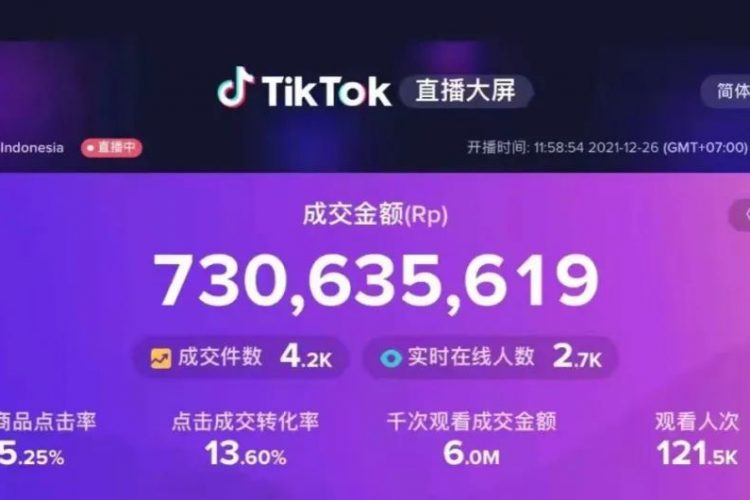 Many people are wondering how this achievement was accomplished. In summary, to do well in a live event in Southeast Asia and achieve relatively satisfactory results, the relationship between "people, products, and the scene" needs to be managed effectively. We will now share related experiences from five dimensions: product selection, preheating, live streaming, advertising, and platform communication.
1) Product Selection
Having the right products is a prerequisite for achieving good results in live streaming sales. Before planning a live event, PONGO's operations team analyzes the sales trends of e-commerce platforms such as Lazada and Shopee using multiple data platforms. They select product categories with high recent buying heat and then choose high-cost-effective and high-quality brands within those categories.
PONGO's Southeast Asia team also verifies the "potential bestsellers" through local research and cooperation with third-party professional organizations. In this live event, PONGO collaborated with well-known smartphone brands like realme, vivo, and Infinix, with Infinix phones being sold out within 12 minutes. The Indonesian team of PONGO, familiar with local consumer needs, conducted in-depth research and deliberately listed a seemingly inconspicuous Nokia dual-card dual-standby feature phone, which also achieved excellent sales of thousands of units in a single session.
PONGO's ability to select product categories and products is supported by both platform data and professional local teams, enabling them to genuinely reach market demands.
2) Preheating
After selecting the products for the live stream, PONGO's content team creates short videos based on the characteristics, selling points, and promotional information of each product and posts them on the TikTok platform to attract followers of their own account and other users to pay attention to and reserve the upcoming live event. Through a week-long preheating period, the total exposure of related short videos exceeded 3.42 million.
Compared to peers, PONGO has its own self-developed SaaS platform called PongoShare, which provides content creators with content management tools and commercial monetization opportunities. Leveraging this platform's task system, PONGO's operations team successfully recruited nearly a hundred KOL/KOC to share the live stream preview on major social media platforms.
3) Live Streaming
Since its establishment, PONGO has attached great importance to the construction of overseas teams, dedicated to providing partners with more professional cross-border marketing services. PONGO's live streaming services adopt a localized strategy, establishing MCN agencies and live streaming bases in multiple locations in Southeast Asia. Combining the experience and models of the domestic live streaming industry, PONGO has built a relatively complete mechanism for selecting and incubating influencers. Currently, PONGO's Southeast Asian MCN agencies have received honors such as TikTok Excellent Service Provider, Lazlive Live Streaming Service Provider, and JDID Gold Service Provider. The influencers incubated by PONGO have achieved impressive records, such as TikTok Premium Referrer, Encourage Award, Potential Referrer, and top rankings in Lazada's cross-border live streaming competitions in Indonesia, Malaysia, and Thailand.
To achieve good results in a cross-border live stream, local professional hosts are undoubtedly essential. Local hosts have a profound understanding of local culture, lifestyle, and demands, and can explain in the most natural and appropriate way, effectively reducing the resistance of overseas consumers to non-local brands. The professional demeanor of hosts can effectively arouse consumer needs and stimulate their shopping interest, thus improving conversion rates. This cumulative effect is something that "translated hosts" cannot achieve. For brand merchants planning to do cross-border live streaming, PONGO recommends prioritizing the search for professional overseas hosts.
4) Advertising
The exposure of 3.42 million preheating short videos brings a very accurate user base to the live session, achieving an operational strategy of first short video seeding and then live conversion. However, both brand merchants and service providers hope to reach as many overseas consumers as possible, increasing exposure and sales. Reasonable advertising has become one of the key factors determining the success of live streaming. With proper advertising, the live stream can receive TikTok's official live channel recommendations at a relatively low cost, thereby gaining more traffic and sales.
There are many techniques for TikTok live streaming advertising, such as waiting to start advertising after the live stream begins to shorten the official review time, not setting the audience too narrowly or too "accurate." These techniques require continuous exploration and adjustment by the team in actual operations.
5) Platform Communication
According to the latest data from the internet cloud infrastructure company Cloudflare, TikTok has become the world's most visited internet website in 2021, surpassing last year's leader, Google, owned by Alphabet. Currently, TikTok's monthly active users have exceeded 1 billion, and the number of adult users that TikTok's advertising system can reach in Southeast Asia is also over 200 million. TikTok's e-commerce potential is limitless.
Regarding different major e-commerce festivals, operational personnel should communicate with TikTok's e-commerce department or cooperating service providers (such as PONGO) in advance to learn about relevant support policies and resources, and strive to qualify for official resource support through their own efforts.
In this live event, PONGO achieved $50,000 in GMV within the first hour through the combined efforts of multi-dimensional operations. The click-through conversion rate exceeded 13%, and the GMV for a thousand views reached 6 million Indonesian rupiahs. The total GMV of this live event also broke historical records, showing a growth of 218.4% compared to Double 12.
Conclusion
PONGO has formed a professional outbound marketing service system in Southeast Asia, using the strategy of "influencer short video + live streaming + social media advertising" to provide brand merchants with high-quality localized marketing services, helping them achieve rapid growth and long-term sales overseas. At this stage, brand merchants who cooperate with PONGO in live streaming can receive a series of professional services such as high exposure, price subsidies, and arrangements of high-quality local hosts. If you have the desire to explore the Southeast Asian market, please feel free to contact PONGO.