PONGO awarded the title of "The Verified TSP" for TikTok Q1 2023
Recently, PONGO received official news from TikTok, being honored with the title of "The Verified TSP" for the first quarter of 2023, thanks to its outstanding local marketing service capabilities.
As one of the first TSP service providers to join the TikTok Shop ecosystem, PONGO has won the cooperation of numerous renowned domestic brands with its excellent digital marketing and local marketing abilities. Throughout 2022, it has received multiple recommendations from TikTok's official social media accounts. The "The Verified TSP" certificate is a testament to TikTok Shop's high recognition of PONGO's long-term dedication to brand globalization and providing comprehensive integrated marketing services to enterprises.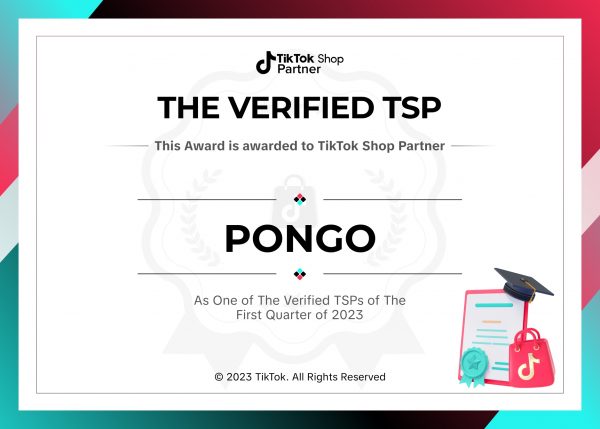 Over the past year, PONGO has served over 20 well-known domestic brands, including TCL, Skyworth Coocaa, TRANSSION, TINC, JDID, PatPat, Y.O.U, and Gmeelan. For each brand's overseas needs and target market conditions, PONGO tailored more targeted integrated marketing strategies and execution plans, successfully helping these enterprises achieve millions of views for their content. Through social media channels, PONGO has significantly increased the brand visibility of its partner companies, driving sales performance and achieving a harmonious combination of brand and effectiveness. These outstanding achievements not only demonstrate PONGO's capability to efficiently and effectively facilitate brand globalization for enterprises at the 0-1 stage but also further solidify its position in the field of overseas marketing.
In the future, PONGO will continue to leverage its outstanding integrated marketing capabilities and local MCN advantages in the brand globalization arena. Focusing on services such as influencer marketing, cross-border live streaming, local content creation, and advertising placement, PONGO will employ high-quality marketing content and strong local execution to help partner companies swiftly expand their target markets and achieve double growth in brand visibility and sales performance.