PONGO Honored with FastData "Best MCN Agency in TikTok Ecosystem" Award
In order to encourage outstanding contributors to the TikTok ecosystem, discover leading entrepreneurs in the TikTok ecosystem, and recognize excellent companies related to TikTok, the 2022 Global Short Video Summit presented the FastData Semi-Annual TikTok Ecosystem "Tianyan" Awards, which were divided into seven major categories. PONGO won the "Best MCN Agency in TikTok Ecosystem" award, and PONGO's founder, Nathan Na, received the "Outstanding Founder Award in TikTok Ecosystem" and the "Most Influential Figure in TikTok Ecosystem" awards. With three major awards, PONGO became the biggest winner of the summit.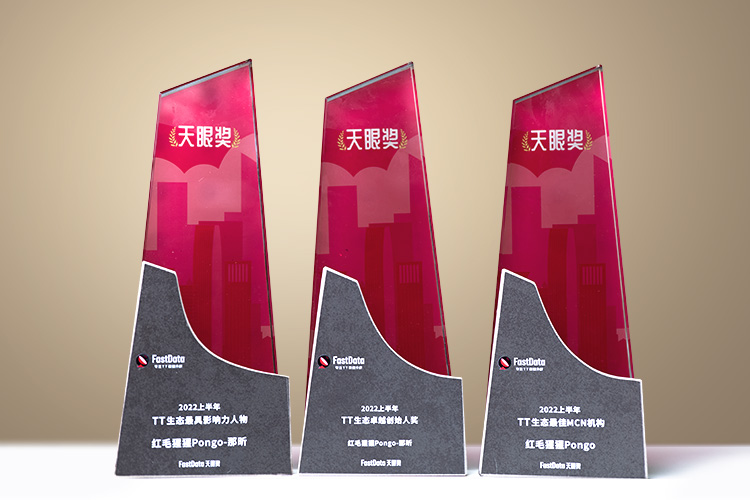 PONGO's remarkable achievements are attributed to the company's long-term focus on the European, American, and Southeast Asian markets, and the establishment of multiple local teams and dedicated MCN agencies overseas. As a leader in Southeast Asian cross-border live-streaming e-commerce, PONGO's signed anchors have won numerous honors, including TikTok Premium Referrer, Encourage Award, Potential Referrer, and top positions in Lazada Cross-Border Live Streaming Competitions in Indonesia, Malaysia, and Thailand.
In March 2022, PONGO officially obtained the qualification of a level-one advertising agent for TikTok and was selected as an officially recognized excellent TSP service provider for two consecutive years. Recently, PONGO has achieved outstanding results in various TikTok official events, first winning the "2022 Ramadan TSP Challenge" overall championship and then claiming the top position in the Malaysia "Sama Sama! Hot Deal" Creator account competition. PONGO offers diversified marketing services such as localized influencer marketing, short video content creation, cross-border live streaming, and social media account management to its partners. If you are interested in expanding into the overseas market, feel free to contact PONGO.