TikTok Shop Malaysia Promotion Results Released: PONGO's Mom & Baby Influencer Account Secures the Top Spot
In April 2022, TikTok Shop expanded its operations to include four new sites: Malaysia, Vietnam, the Philippines, and Thailand. In June, it added Singapore, making TikTok's e-commerce business now covering the major Southeast Asian markets. Currently, TikTok Shop operates in seven countries globally, with six of them in Southeast Asia, indicating TikTok's strong focus on the Southeast Asian market.
From July 25th to August 5th, 2022, TikTok launched a 12-day promotion in Malaysia called "Sama Sama! Hot Deal," attracting thousands of influencers and merchants to participate in live streaming competitions. Thanks to TikTok's innovative marketing strategies and official support policies, the overall GMV of the promotion increased by 85%, with a total GPM growth of 48% and a 78% increase in the number of orders. PONGO's influencer account @baf_baby achieved an outstanding performance with a 118-fold increase in GMV and a 151-fold increase in orders during a single live session, securing the top spot on the Sama Sama Malaysia's first major promotion influencer sales leaderboard. TikTok's official account highlighted @baf_baby as a key case study in their public post.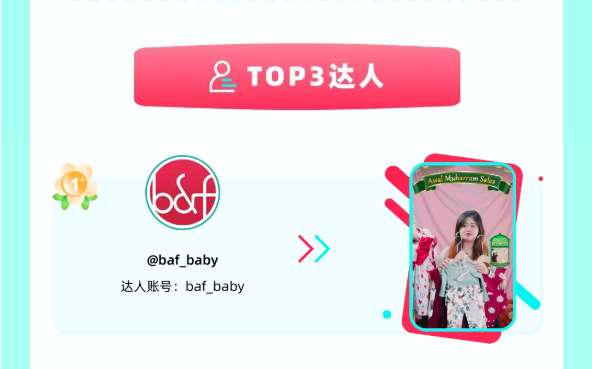 The @baf_baby account, which won the crown during the Malaysian promotion, took only one month from its inception to become Malaysia's NO.1 in the promotion. This achievement can be attributed to PONGO's expertise in localized marketing, short video operations, and the ability to leverage the advantages of mom & baby live-streaming for creating creative live sessions.

According to Bain analysis, Malaysia's e-commerce market was valued at $14 billion in 2021, with a 68% year-on-year growth, and it is expected to reach $19 billion by 2025. The penetration rate of social media in Malaysia is as high as 81%, and users spend a considerable amount of time on platforms like TikTok. PONGO is a company that provides digital marketing services for brands expanding into international markets. PONGO offers integrated marketing services such as localized influencer marketing, short video content creation, cross-border live streaming, and social media account management to its partners. Additionally, PONGO is a level-one advertising agent for TikTok and an officially recognized Excellent TSP service provider, enabling it to provide marketing solutions based on TikTok For Business' official resources, including TopView, In-Feed Ads, and Branded Effects, for international businesses.
If you are interested in expanding your overseas market through TikTok live streaming, feel free to contact PONGO.