Localized Content + Marketing Matrix Resources: PONGO Helps Coocaa Deepen Its Presence in the Indonesian Market
In July 2022, Coocaa, a brand under Skyworth, launched its latest television in Indonesia and chose to collaborate with leading Southeast Asian TSP service provider, PONGO, to promote the brand and products to local users.
PONGO tailored an integrated marketing plan for Coocaa that catered to the preferences of Indonesian consumers. Employing a well-paced promotional approach, PONGO effectively spread the message through multiple social media platforms. During the 707 Indonesia promotion, PONGO leveraged its resource advantages to support Coocaa's brand marketing efforts and effectively reach local consumers in Indonesia.
To help Coocaa gain extensive exposure during the marketing campaign, PONGO provided various marketing services, including portal website marketing, TVC advertising, localized influencers, ad placements, and cross-border live streaming. PONGO disseminated creative content through Indonesian social media platforms using compelling visual marketing and entertaining mechanisms, thereby boosting product visibility, user engagement, and brand affinity for Coocaa.
Media Endorsement
For the "BE FASTER, BE MASTER" mid-year promotion by Coocaa, PONGO collaborated with over 20 well-known local media outlets and portals in Indonesia. They published articles through vertical channels like Yahoo News, Indonesian News, and Asia's First Station, showcasing the new product's "fast" performance features and enhancing Coocaa's brand image of high quality. The endorsement from mainstream local media helped Coocaa quickly establish credibility, deepen user trust, and build its corporate image.
Through comprehensive portal website promotions, the total website views reached nearly 1.6 billion, effectively capturing the attention of Indonesian consumers towards Coocaa's new products.

Advertising Campaign
PONGO has a professional team dedicated to creating localized content for Indonesia. For this marketing campaign, they produced a TV commercial (TVC) titled "Kung Fu Master," which cleverly highlighted Coocaa's product attributes of "fast" and "master" in the promotion. The TVC was then released on Coocaa's TikTok official account by PONGO, garnering over 600,000 views and thousands of interactions.

Influencer Marketing
PONGO has established an MCN organization overseas, enabling them to select suitable influencers based on the brand positioning of their partners. For this campaign, PONGO invited over 30 well-known local KOLs (Key Opinion Leaders) in Indonesia to participate in the brand challenge "#BeFasterBeMaster." More than half of them were local influencers with millions of followers, covering various domains like reviews, parenting, home, and lifestyle. With the help of KOLs and KOCs (Key Opinion Consumers) creating quality content, the cooperative videos received over 8.8 million views, and the TikTok brand challenge generated over 14 million coverage impressions.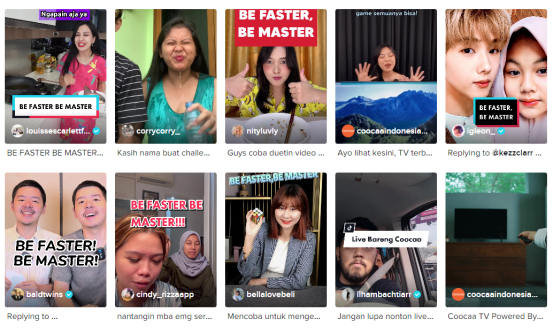 Ad Placement
With PONGO's ability to secure TikTok's level-one advertising agency qualification and being an officially recognized Excellent TSP service provider, they have operated hundreds of overseas live streams and possess rich experience in ad placement. For this marketing campaign, PONGO's optimization experts utilized traffic inflow to drive more users to the specified Lazada website for Coocaa. The well-prepared short videos and ad placements received nearly 2 million views, bringing substantial cold-start traffic to the live stream.
On the day of the live stream, PONGO's optimization experts conducted two series of ad placements. One series aimed to increase exposure for the live stream, ensuring the new product's promotional intensity, while the other series focused on boosting sales within the live stream and achieving the new product's transaction volume. The dual ad placement approach by PONGO's optimization experts effectively contributed to the brand's overall performance.
Overseas Live Streaming
Having hosted hundreds of live streams in the Southeast Asian region, PONGO's operations team has extensive live streaming experience. For this marketing campaign, PONGO designed an exclusive virtual live streaming space for Coocaa, combining technology and a sense of sophistication. They invited TikTok influencer @ilhambachtiarr, who has 510,000 followers, as a guest to attract a significant number of users to the live stream.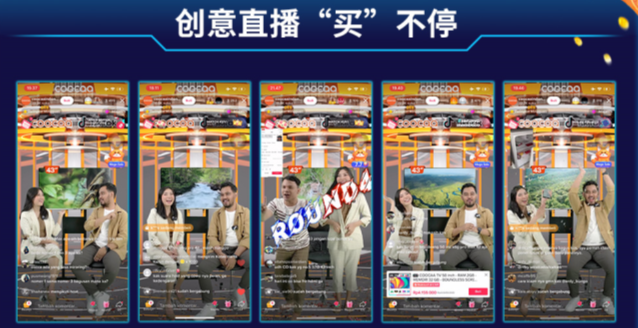 PONGO provided Coocaa with integrated marketing services, including influencer marketing, ad placements, media promotions, short video production, etc., to help the brand achieve extensive exposure and considerable sales conversion during the 707 promotion in Indonesia. This has solidified their customer base and expanded brand awareness in the Indonesian market. If you are interested in acquiring effective users and increasing brand awareness through promotional activities, feel free to contact PONGO.