PONGO Included in TikTok's Official Certified TSP Service Provider List
Recently, TikTok announced the list of TSP service providers that meet the official certification standards through multiple official social media accounts, and PONGO was once again recognized by TikTok, becoming one of the first batch of publicly listed companies.
The list includes a total of 18 companies that have undergone rigorous inspections by TikTok's official team for a period of three months. TikTok's official team conducted comprehensive evaluations based on the ecological service resources provided by the companies and seller feedback, selecting the highest-quality TSP service providers from the TikTok ecosystem and making them public.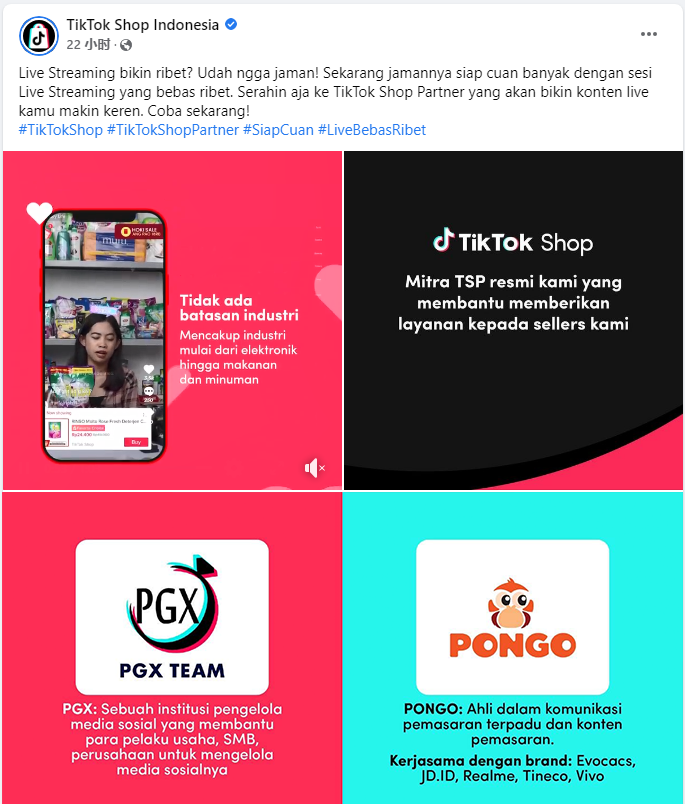 As a leading international digital marketing service company in China, PONGO has been focusing on two industry dimensions – content e-commerce and influencer economy – since its inception. It provides diverse marketing services, such as influencer marketing, cross-border live streaming, content creation, social media advertising, and brand account operation, helping domestic and international brands efficiently reach young consumers worldwide, enhancing overseas brand reputation, and achieving sustained sales growth.
Faced with the rapid development of the internet economy in Southeast Asia, PONGO has laid out and built marketing resources around three dimensions: influencer marketing, live streaming, and ad placements, leveraging TikTok's ecosystem resources. PONGO has established several MCN agencies and live streaming bases in Southeast Asia, providing professional localized live streaming services and influencer marketing services through a rigorous host selection and training mechanism. Currently, PONGO has become an excellent TSP service provider recognized by TikTok and a first-tier advertising agent, offering outstanding marketing integration solutions for well-known enterprises such as Haier, vivo, OPPO, Redmi, Ecovacs, POCO, realme, Transsion, JDID, and has received high recognition from its partners.
1) jdid_mart New Account Operation Service
In early November 2021, PONGO took over the operation of the new jdid_mart account, with the following results:
Gained 23.6k real followers within one week.
Achieved a ROAS of 1:22 and a repeat purchase rate of over 50% during the "Double 11" TikTok live event on the sixth day.
Attracted 189,800 viewers in a single day during the "Double 12" TikTok live event, with a "view-to-product click rate" of 45.61%.
In February 2022, PONGO stood out among numerous service providers and obtained the exclusive agency operation right for the jdid_official TikTok account.
2) EraClean Integrated Marketing Service (Southeast Asia)
Since 2020, PONGO has been providing EraClean with integrated marketing services in Southeast Asia, with the following results:
Formulated structured influencer marketing plans on the TikTok platform, with the total play count of influencer content exceeding 120 million.
Significantly increased sales in Southeast Asia, with the refrigerator deodorizer consistently ranked high in the Lazada best-selling list for refrigerator accessories.

3) Haier Hundred Influencers Marketing Plan (Global)
In late October 2021, PONGO quickly joined the Haier global influencer marketing plan. Within one month, PONGO invited hundreds of influencers from Southeast Asia, the Middle East, and Africa to participate in the project, with the following results:
Overall coverage of 20 million followers for influencers.
Marketing short video content played over 6 million times.
Coverage on mainstream platforms such as Facebook, YouTube, Instagram, and TikTok.
Multiple influencers visited designated Haier physical stores for promotion and customer attraction.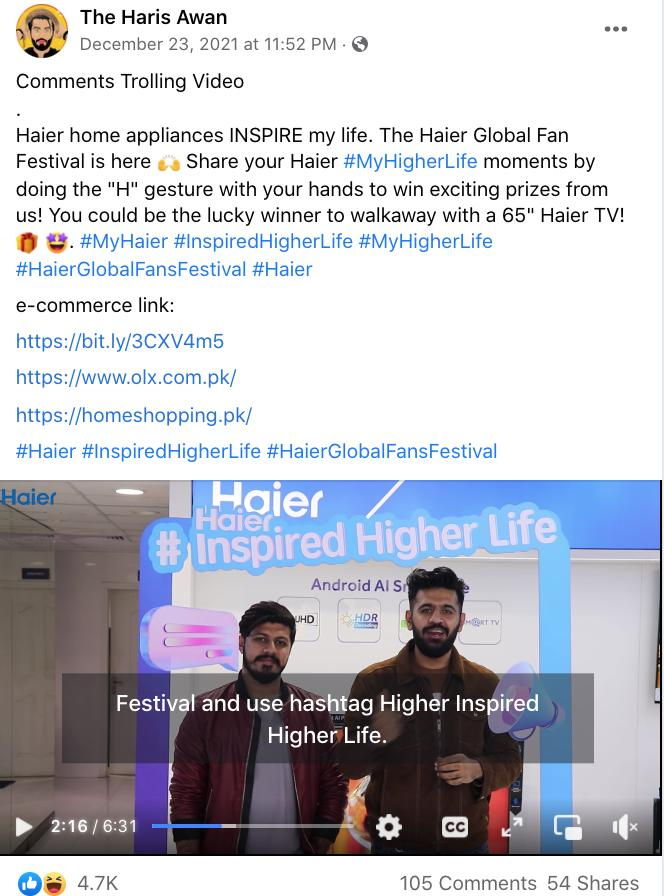 About PONGO
The red-haired orangutan PONGO has become an excellent TSP service provider recognized by TikTok and a first-tier TikTok advertising agent. It can provide partners with influencer marketing, cross-border live streaming, TikTok advertising account setup and recharge, TikTok traffic commercialization, and other services. PONGO effectively integrates and conveys the brand concept and product characteristics of overseas enterprises to young overseas consumers, achieving the combination of brand and performance. PONGO has MCN incubation agencies and live streaming bases in Southeast Asia, equipped with professional localized content creation capabilities. It can customize comprehensive marketing solutions according to the needs of brand businesses, integrate different marketing resources, and achieve the enhancement of overseas brand influence and long-term sales growth. If you are interested in promoting your brand and products to the global market, please feel free to contact PONGO.