PONGO is honored with the title of "2022 Cross-Border Rising Star Agency (MCN)" by TikTok Shop
In 2022, TikTok Shop's cross-border e-commerce ventures soared, exploring new business opportunities in the international market together with merchants and service ecosystem partners. TikTok Shop witnessed significant growth in both overall scale and quality of operations, accelerating its global expansion.
Throughout the year, with the continuous growth in the UK market and the exploration of the Southeast Asian market, TikTok Shop's cross-border GMV (Gross Merchandise Volume) achieved robust expansion. Cross-border GMV saw significant growth at several key milestones during the year. For instance, during the 2022 Christmas season, cross-border GMV increased by nearly 270% YoY globally, and the average transaction order value in the UK market in December increased by nearly 40% YoY. The highly watched Southeast Asian market achieved an average monthly compound growth rate of nearly 90% in GMV for the entire year.
Today, TikTok Shop's cross-border e-commerce officially announced the winners of the "2022 TikTok Shop Cross-Border E-commerce Annual Awards," aiming to inspire and reward outstanding cross-border service providers who have grown and thrived alongside the TikTok platform. Among them, PONGO, was honored with the title of "2022 Cross-Border Rising Star Agency (MCN)" for its professional and high-quality services.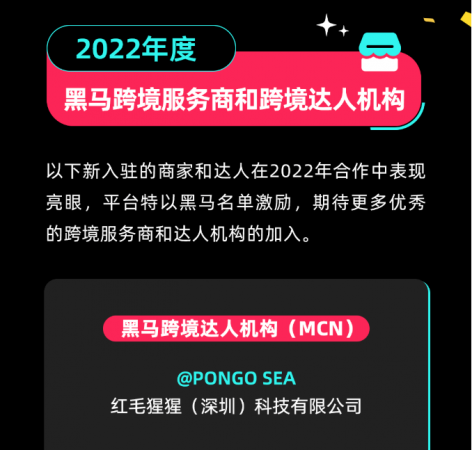 In 2022, PONGO served more than 20 renowned brands such as TCL, Skyworth, TRANSSION, TINC, JDID, PatPat, Y.O.U, and Gmeelan. Based on each brand's overseas needs and current situation, PONGO launched more targeted integrated marketing strategies and overseas execution plans, helping numerous brands achieve millions of content marketing views, significantly increasing their brand visibility, driving sales performance, and achieving a harmonious combination of brand and effectiveness.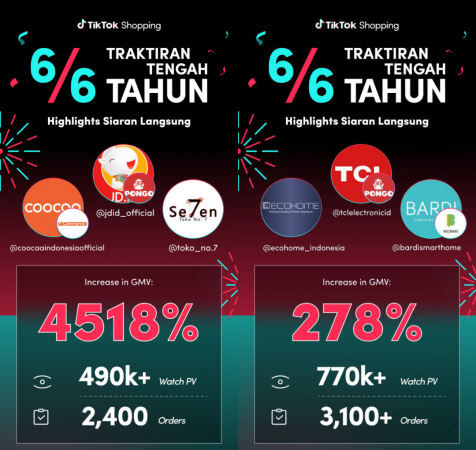 Throughout the past year, PONGO has continuously optimized and enhanced the quality of its services, achieving the following honors:
"RAMADAN SALE" Indonesia TSP Challenge Overall Ranking TOP1
"Sama Sama" Malaysia's First Major Promotion Influencer Sales Ranking TOP1
TikTok Shop Summit 2022 Award: Best Live Room TSP | TOP Mom&Baby MCN
TikTok Shop 11-12 Bi-Monthly Cross-Border MCN Top Ten List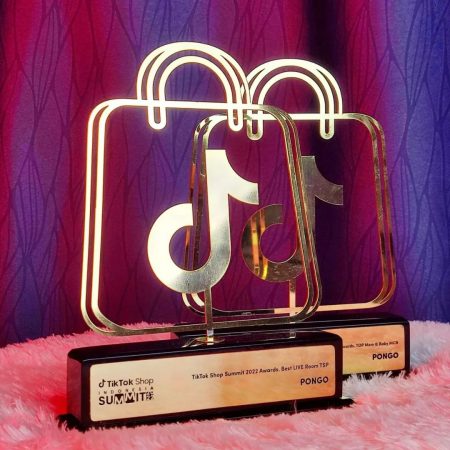 PONGO, is a digital marketing agency specializing in brand globalization. It provides marketing services such as influencer marketing, cross-border live streaming, local content creation, and advertising placement to help brands swiftly enter foreign markets and achieve double growth in brand visibility and sales performance at the 0-1 stage. Currently, PONGO has provided professional and reliable integrated marketing strategies and execution plans for numerous renowned brands such as Haier, TCL, Skyworth, JDID, PatPat, Y.O.U, and TINC. If you also have plans for brand globalization, please feel free to contact PONGO.