PONGO Joins Hands with SEA ERA to Win TikTok's Top Service Provider Award, Creating a One-stop Brand Overseas Marketing Service
Recently, PONGO received great news from TikTok: the results of the "MYBestHostChallenge," a 19-day anchor challenge, were officially announced to the public. PONGO, in collaboration with SEA ERA, stood out with outstanding performance and remarkable results among the participating TSP (TikTok Service Provider) merchants, earning the honor of being named TikTok's No. 1 service provider.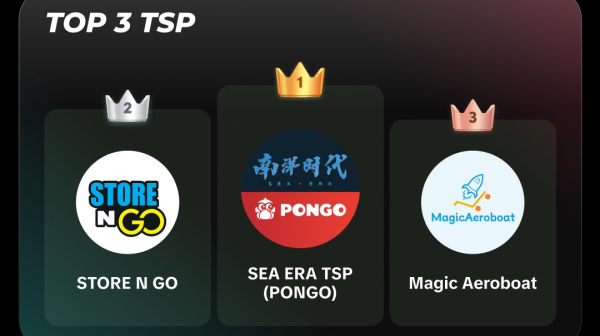 Compared to last year, the second edition of the anchor challenge attracted even more high-quality and professional TSP merchants and anchor contestants, making the competition intense and gathering top talents. During the challenge, the live-streaming Gross Merchandise Value (GMV) increased by a staggering 103.11 times compared to usual. The ranking results of this challenge comprehensively evaluated key indicators such as live-streaming GMV, conversion rate, watch time, and the number of viewers, fully reflecting the professional level of the award-winning TSP merchants and anchors. In addition to securing the top spot on the TSP merchant ranking, PONGO's anchors also occupied 4 out of the "Top 7 Hosts" in this challenge.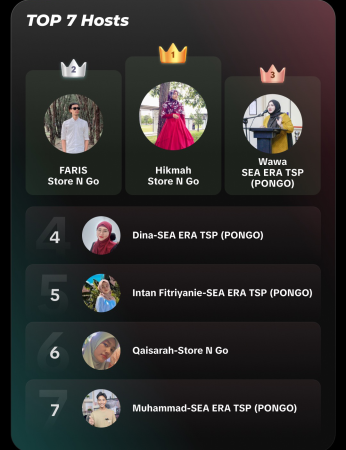 Furthermore, several brand accounts jointly operated by PONGO and SEA ERA saw varying degrees of improvement. Among them, the well-known travel suitcase brand "Universal Traveller MY" witnessed a 238% YoY increase in GMV, and the women's clothing brand "ELLE ZAHRAA HQ" gained 1954 new followers, both being selected as featured cases in the "Seller Showcase."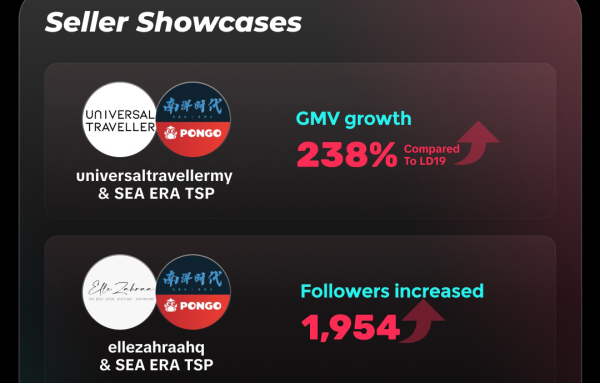 Research firm eMarketer predicts that the global e-commerce market's size is expected to reach 6.3 trillion USD in 2023, accounting for 20.8% of the retail industry's sales. By 2026, the global e-commerce market's size is expected to exceed 8.1 trillion USD. According to China's customs data, the import and export value of cross-border e-commerce reached 2.11 trillion RMB in 2022, with a YoY growth of 9.8%. Among them, exports amounted to 1.55 trillion RMB, with a YoY growth of 11.7%. Overall, there is still significant potential in overseas markets, and the trend of brand globalization and overseas expansion is evident. Seeking incremental markets overseas is a common choice for many enterprises, with the rapidly developing Southeast Asian market being a crucial battleground for numerous DTC brands.
As a digital marketing service provider specializing in brand overseas expansion and one of the first to be certified by TikTok as a TSP, PONGO can offer comprehensive marketing services, including influencer seeding, cross-border live-streaming, local content creation, and advertising placement, to help overseas brands achieve rapid deployment in markets like Indonesia, Thailand, and Malaysia during the 0-1 stage and drive dual growth in brand establishment and sales performance. During 2022, PONGO provided services to over 20 well-known brands, including TCL, Skyworth, Transsion, Tineco, JDID, PatPat, Y.O.U, and Gmeelan, gaining high recognition from its partners. After years of effort, PONGO has accumulated rich practical experience and leading management expertise in Southeast Asian live-streaming e-commerce, anchor training and incubation, and localized content marketing integration. Together with its partner SEA ERA's years of logistics supply chain advantages and live-streaming resources in the local market, the two complement each other well, providing a more comprehensive full-chain service for brand localization in overseas expansion, solving challenges and pain points in the process, and significantly enhancing the efficiency and results of brand expansion in the Southeast Asian market.
In the future, PONGO will deepen its cooperation with SEA ERA, fully leveraging the strengths of both parties to comprehensively layout the full chain of brand overseas expansion. They will provide stronger and more comprehensive one-stop support for the localization marketing and after-sales services of overseas brands, accelerating the efficiency of brand deployment in the Southeast Asian market.