LocknLock Advances into TikTok Shop E-commerce with PONGO's Assistance, Achieving a 372% Daily Live GMV Increase in one month
LocknLock is a subsidiary brand under the South Korean company, LeKou. Since its establishment in 1985, LocknLock has been dedicated to the production and improvement of sealed containers and is well-acclaimed in more than 90 countries worldwide, beloved by consumers. In response to the trend of short video platforms, LocknLock has actively ventured into market marketing on such platforms in recent years. However, its performance on the TikTok Shop e-commerce platform has not met expectations.
Currently, the market strategy for similar products in Indonesia mostly revolves around a "price war," with the average price for the top 20 thermal cups ranging from 10 to 20 RMB (Chinese Yuan). As an international major brand, LocknLock has a mature and stable global regional pricing system, with an average customer price above 100 RMB, making it challenging to compete on price. As an officially certified TikTok Shop Partner (TSP), PONGO took over the brand's TikTok Shop live-streaming business in Indonesia from the end of May. Through PONGO's refined brand operation strategy, the performance of LocknLock's TikTok shop has been significantly improved and elevated, achieving "breaking $3000 in 3 hours, daily GMV growth of 372%, daily page views on TikTok Shop exceeding 18K, and a 320% increase in the number of orders." The brand also ranked well on various TikTok third-party data platforms.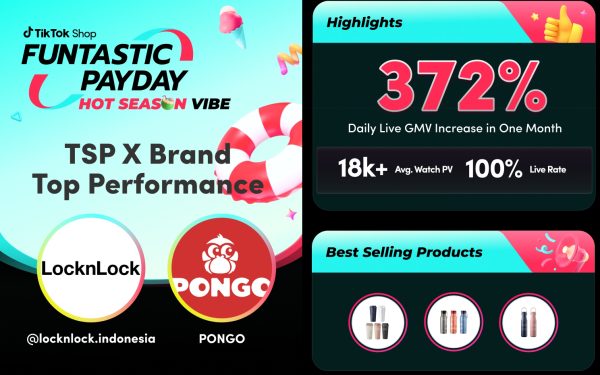 Overall, PONGO mainly boosted LocknLock's brand visibility and sales conversion from the following aspects:
1)  Adjusting the Target Audience and Marketing Strategy
Through research on competing products and data analysis on TikTok's advertising platform and third-party data platforms, PONGO identified that LocknLock's brand identity aligns well with young Indonesian women aged between 25-34. Accordingly, a new marketing strategy was formulated targeting this consumer group.
2)  Standardizing and Optimizing the Live-streaming Process
After multiple in-depth communications and reviewing the brand's previous live-streaming records, PONGO optimized the live-streaming process, considering the new target audience's user profiles. This optimization included improvements in live-streaming room setup, product selection, anchor training, interactive mechanisms, and user acquisition, all establishing a professional SOP (Standard Operating Procedure). For instance, the live-streaming room setup adopted a "Korean style" that resonated well with the brand's identity and was preferred by young female audiences. Different professional anchors were selected to showcase product combinations in trial broadcasts, aiming for the best "talent-product-scene" configuration.
In terms of details, PONGO fully leveraged its local MCN (Multi-Channel Network) advantage to provide more targeted content and services for the overseas brand. For example, the anchor's script was closely integrated with local people's lifestyles and preferences, adopting visually impactful demonstrations to highlight product features and usage scenarios, winning higher user engagement and trust.

3)  Employing Multiple Strategies to Boost Live-streaming Effectiveness
As one of TikTok's first batch of TSP service providers, PONGO is well-versed in TikTok live-streaming's traffic operation strategies, forming a mature approach based on "organic traffic + private traffic + paid traffic," which breathed new life into LocknLock's live-streaming rooms. During live broadcasts, PONGO's live-streaming team effectively promoted order conversions through methods such as free random draws, gift bags, and coupon distribution, coupled with expert-level marketing strategies and interactive explanations from professional anchors, resulting in significant improvements in the professionalism and GMV of LocknLock's live-streaming rooms.

4)  Seamlessly Incorporating TikTok's Official Promotions
As an officially certified TikTok Service Provider, PONGO gained first-hand knowledge of the platform's official event policies and support, allowing for early planning. In this collaboration, PONGO closely aligned with TikTok's Payday event subsidy policy, enhancing LocknLock's product pricing advantages and consumer experience.
5)  Data Review and Strategy Adjustment
PONGO's live-streaming team conducted regular data reviews of live events on a daily, weekly, and monthly basis, dynamically adjusting operational strategies to maintain a stable growth trend in live-streaming GMV.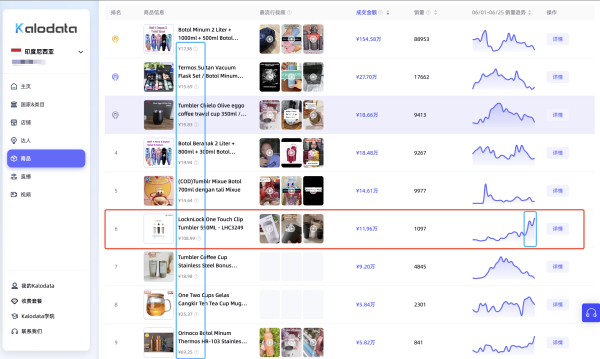 Despite LocknLock's products belonging to the higher-priced category in the Indonesian market, PONGO's meticulous brand operation and marketing strategies helped LocknLock break free from the constraints of price, accurately reach the target audience, and ultimately achieve dual growth in brand visibility and sales performance, showcasing PONGO's familiarity with the Indonesian market and comprehensive capabilities in brand customer management.