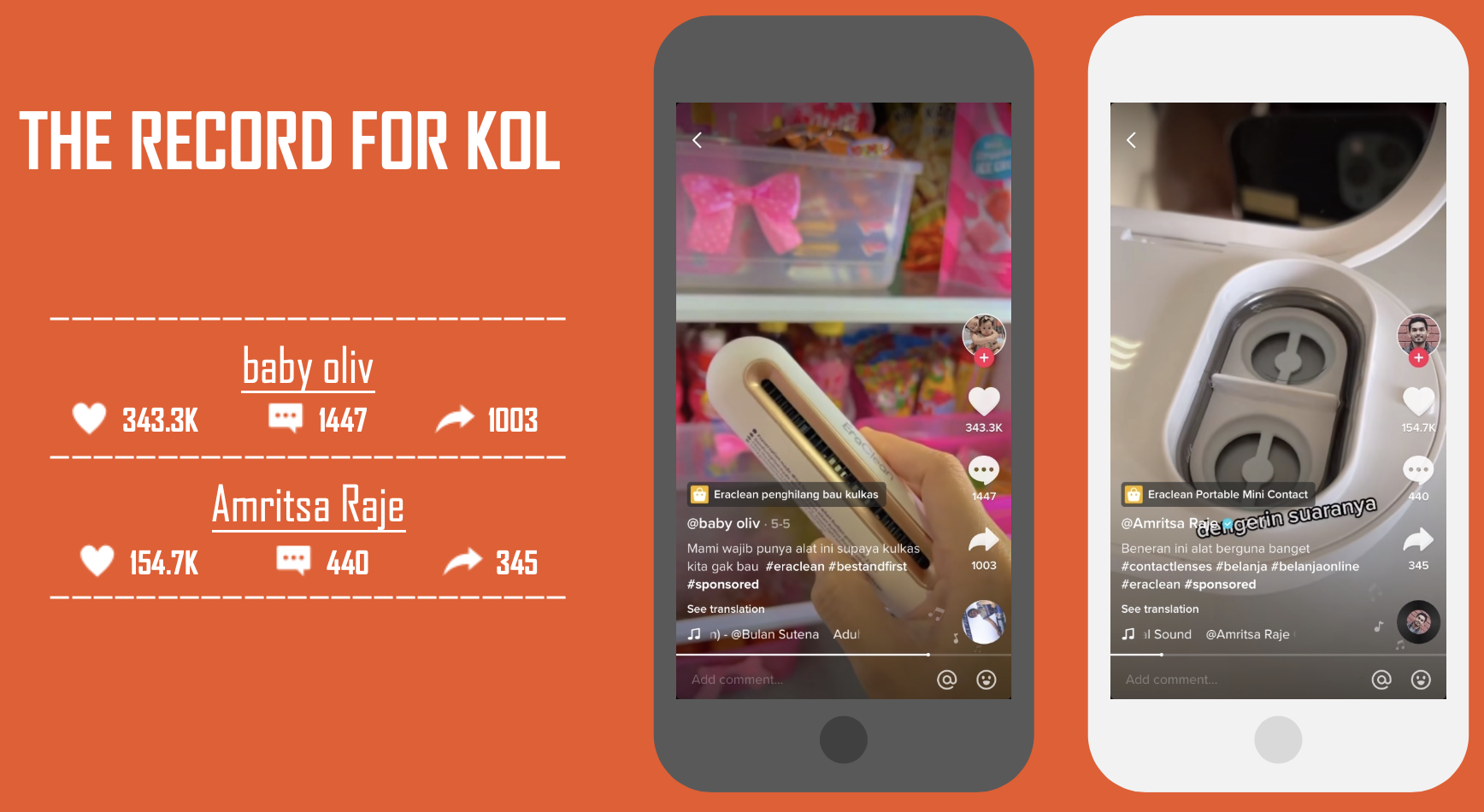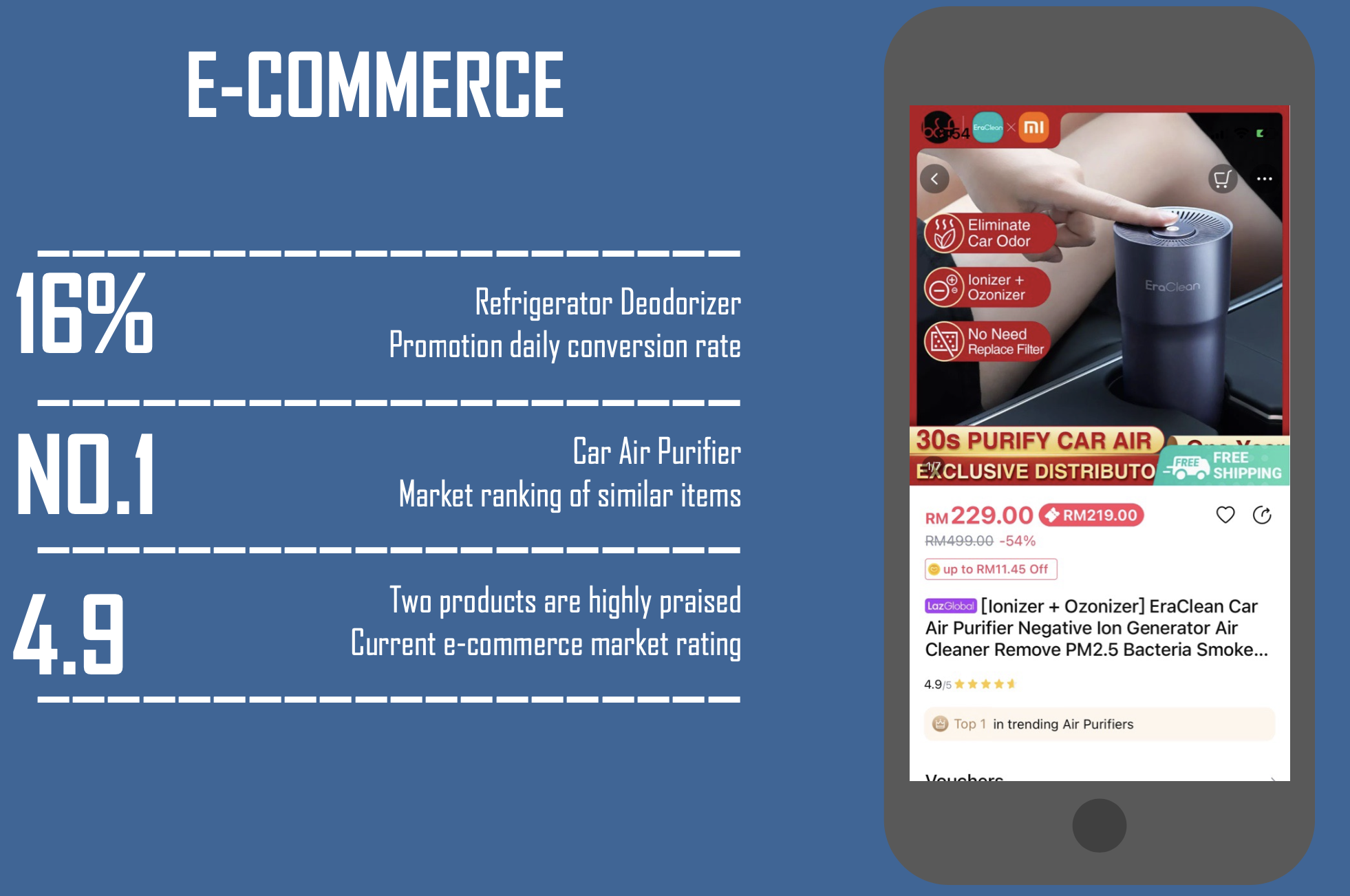 Xiaomi Eraclean & PONGO
Client:

Eraclean

Daily conversion rate:

16%

Brand exposures:

110 million

The first month Sale:

From 0 to 100,000 USD
Project Overview
A blitzkrieg to capture the target market
Helping Eraclean's refrigerator deodorizer/wireless vacuum cleaner/car air purifier to capture the Southeast Asian market
As a new brand of cleaning DTC, Eraclean has rapidly occupied the domestic market and won millions of users with its excellent quality. Now, with rapid development of Internet economy and great potential IN Southeast Asian market, Eraclean hopes to lay out before its counterparts and occupy the market with the unity of quality and efficiency.
Concentrated concurrency of multiple influencers, Synchronized strong control and ignite of Products and Sales
In the earlier stage of cooperation, Eraclean had no marketing and e-commerce foundation for its brand in the Southeast Asian market, and there were a channels of "inventory transshipment", and the brand with low market awareness and confusion. 
PONGO's integrated promotion optimization through three stages of pre-heat, live broadcast and long tail has led to a significant increase in the brand's e-commerce sales in Southeast Asia. In particular,refrigerator deodorizer and car air purifier achieve high praise from local users (4.9 points) 
Influencers Praise blitzkrieg
Targeting the head celebrities in the category to export positive praise. And establishing and leading the brand and product trend in Southeast Asia market. 
Simultaneous mass concurrency

 
We are able to achieve the full angle of influencers recommend products in all circles perfectly and efficiently with excellent influencers scheduling and rich influencers marketing experience, which will lead to a concentrated and rapid explosion of public praise. 
Marketing chain combing reconstruction

 
Through multiple marketing forms such as influencers, content and livestreaming, we open up the whole process marketing nodes and rebuild the brand marketing system on our own goodies recommendation platform b&f, lazada, shopee and tiktok media platform. 
Integrate point and sphere to boost sales

 
Combine promotion days with hot products to create category explosions and seize pendant rankings. Meanwhile, integrate point and sphere to
enhance the brand and its entire product category user praise, and ultimately improve overall sales. 
Our Solutions
Quickly mobilize over 50+ digital and lifestyle bloggers from YouTube and TikTok platforms to plan and execute multi-angle and multi-circle products recommendation
Through the instruction and trial of Eraclean series products, it quickly ignited the buzz and brought over 110 million exposures for its brand products.

With this integrated marketing, the monthly sales of Eraclean brand jumped from 0 to 100,000 USD, perfectly achieving the goal of unified marketing