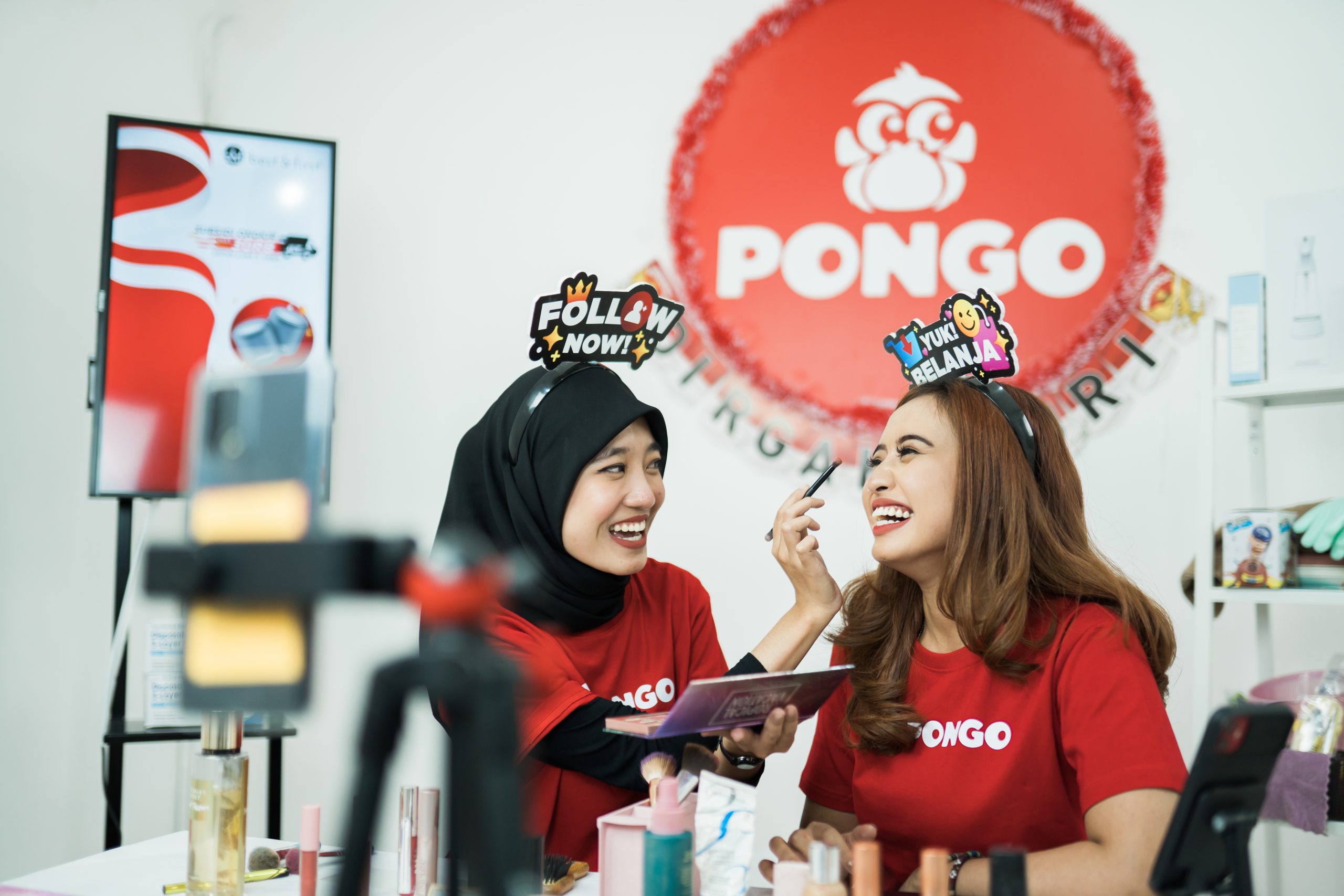 How to Make Money on TikTok.
TikTok is a video-sharing app that has erupted onto the social media world.
It went from being a fun app for kids to an app that is now used by tens of millions of people all around the world.
TikTok (previously musical.ly) quickly became a global phenomenon. TikTok now has about 689 million monthly users, making it one of the most popular social media networks.
You'd have to agree that making content on TikTok is no longer a joke now that the company has gotten $1 billion in funding for its Creator Fund and is valued at over $50 billion.
With TikTok, you have a fantastic potential to make a lot of money online.
You also don't need to be a seasoned marketer or possess specialised technological knowledge. It's a lot easier to make money on the video-sharing platform.
You can go live on Tiktok, urge viewers to give, and profit from sponsorship deals with well-known companies.
How to Make Money on TikTok?
1. Use TikTok's Creator Fund to get paid.
The TikTok Creator Fund is a means for TikTok to assist and reward inventive creators on their platform. It's the app's latest attempt to establish itself as a go-to source for user-generated content.
TikTok Creator Fund, like other platforms, is not reliant on advertising revenue. Rather, your fund grows in tandem with your channel and content. It also depends on criteria such as views from authentic accounts, your users' geographic location, and more.
And, because TikTok's content engagement is dynamic and fluctuates on a daily basis, your funds will fluctuate as well.
To participate in the programme, you must meet the following requirements:
You must be at least 18 years old.
Have at least 10,000 genuine followers.
In the last 30 days, you've gotten at least 100K genuine video views.
Based in the United States, the United Kingdom, Germany, Italy, France, and Spain.
You must create unique content that adheres to TikTok's community guidelines.
To apply for the Creators Fund programme, you'll also need a Pro account.
To apply for the programme, go to your account settings, select "Pro Account," then "TikTok Creator Fund."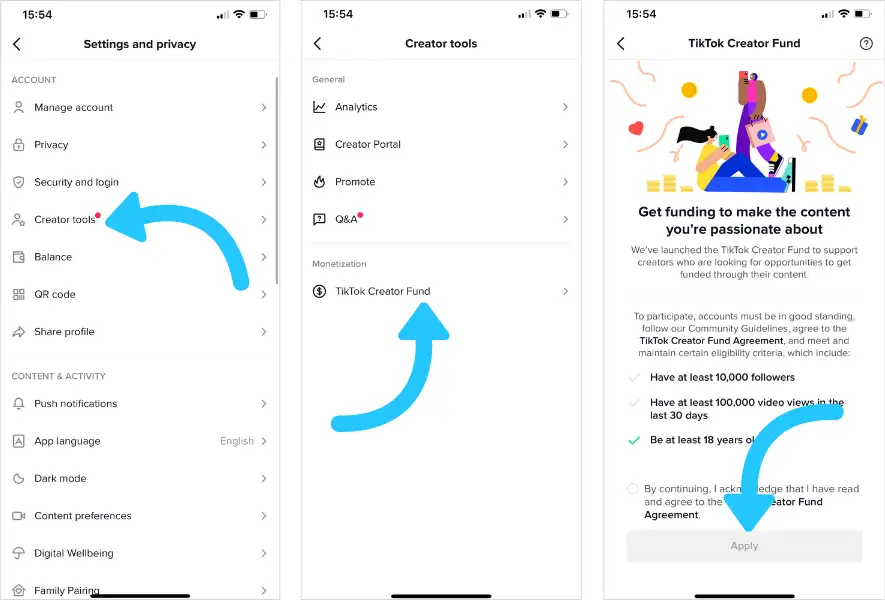 If you were to receive a payout, it would appear in your Creator Fund Dashboard three days after your video views were accumulated.
And you have 30 days after the month finishes to transfer your funds ($10 minimum) to PayPal or Zelle.
2. Receive Donations for Your Live Streams.
Taking donations from your followers/viewers is one of the various methods to generate money on Tiktok. It works in a similar way to Twitch, where your viewers can pay money to show their appreciation for your live stream.
As a creator, you can enable Live Gifting while live broadcasting on TikTok, receive real-time rewards, and cash out your earnings using PayPal.
There is, however, a minor twist here.
TikTok includes a number of in-app currencies that viewers must acquire before gifting them to their favourite influencers.
The coins may be found under Settings >> Balance >> Recharge.
Note that only users aged 18 (or the age of majority in your jurisdiction) or older can send or receive these rewards.
Viewers can also send stickers directly during the live stream without purchasing the coins.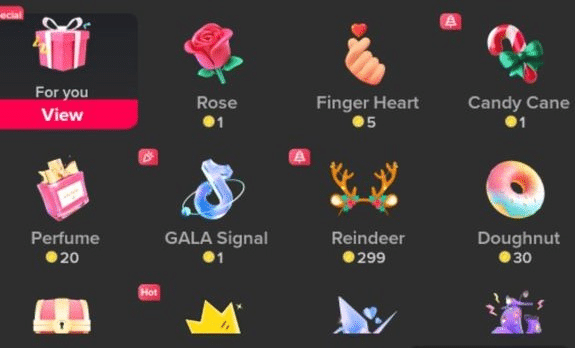 It's good to have someone send you a message to honour your labour, no matter how tiny the present may be.
To engage with your viewers, don't forget to give a shout-out whenever you receive a gift. If your supporters feel rewarded for your kindness, they're more inclined to tell others about it, which will help you gain popularity.
A simple, heartfelt "Thank You" will suffice.
3. Partner With Sponsors and Brands.
Because of its popularity, corporations and advertisers are willing to pay large sums of money to TikTok artists to promote their products.
Most marketers reach out to creators via their agencies, especially if the creator has already gone famous on TikTok.
However, TikTok Creator Marketplace is one way for creators to earn money directly from marketers.
TikTok is the only social media platform with an integrated programme for content creators.
The TikTok Creator Marketplace is an official platform for businesses and creators to collaborate. It allows companies and unique content creators to collaborate on paid campaigns.
By discussing or utilising the product in your video, you raise brand recognition and attract clients. After that, you'll be compensated for submitting sponsored material.
The Creator Marketplace allows brands to search for creators and see your profile, follower count, audience demographic, essential engagement metrics, etc.
4. Sell Your Own Products on TikTok.
Create indirect tiktok adverts that offer stuff or other products on the network to make money from your TikTok channel. It's a self-sustaining income model that's akin to establishing an influencer agency.
Bringing your items to TikTok involves reaching out to a diverse audience, primarily made up of Gen Z and millennials. In the United States alone, these generations have a total purchasing power of roughly $150 billion.
This is a huge opportunity to seize.
To begin, you must get as many people as possible to see your products.
TikTok's Hashtag Challenge Plus is one way to do this.
The concept is similar to user-generated content, in that it encourages your audience to produce and share material that features your product. The only new feature is a shoppable hashtag, which allows interested shoppers to purchase the goods directly from the app.
TikTok also develops a shoppable landing page for you, which is routed to potential purchasers after they click on the hashtag. The hashtag will appear on the discovery page as well, which can help you gain additional traction.
5.Grow And Sell TikTok Accounts.
It's not a new approach to make money by selling social network profiles.
On social media platforms like YouTube, Instagram, Twitter, and Snapchat, many individuals already do this.
You'll need to build a TikTok account by collecting a large number of TikTok followers and engaging with them on a regular basis. After you've reached a certain number, you can contact brands and individuals who could be looking for a profile in that niche.
I'd recommend focusing your account on a single topic, as these are easier to sell. Brands that are hesitant to build their profile from the ground up can quickly take it over. And the takeover may go unnoticed by their viewers.
Brands and people looking for specialty profiles will automatically look for certain terms, which may lead them to your page.
You may also create a website to promote your profiles and connect with potential buyers.
You can estimate the selling price based on the amount of followers by looking at this list. Naturally, the larger your audience, the more money you can earn.
Other than the number of followers, there could be a number of factors at play.
While there is no official word on this, here are some examples of what you can generate by flipping TikTok profiles:
1-13k followers = ~$100
13-50k followers = $100-$500
50-100k followers =  $500-$1000
100-500k followers = $1k- $5k
500k-1M+ followers = $1k-$30k